Prison Plasma Reset
Hey astronauts! I am excited to announce that we are resetting Prison Plasma on October 23rd at 3 PM EST / 12 PM PST / 8 PM GMT!
We've made many improvements to the planet based on your feedback from last season and we cannot wait to share them with you on launch day, October 23rd!
Join our Discord at https://discord.gg/mc to interact with the community and participant in key alls!
Prison Plasma releases October 23rd, 2021 at 3 PM EST / 12 PM PST / 8 PM GMT!
​For any other timezones, type "3 PM EST" into Google, and the appropriate time will be displayed based on your location. Let's jump into the reset details!
Server Details
The following information is the basic server details for our upcoming reset. To see new features, keep scrolling until you see the "Features" section.
Gang Prestige Top (/gtop)
All vouchers will expire the week after they are handed out (/voucher). You must redeem them towards items on the server you win them on by that next week or they will be useless. The last week of voucher payouts will roll over to the next season. The payouts will be as follows:
$125 Buycraft
$75 Buycraft
$50 Buycraft
$40 Buycraft
$35 Buycraft
Player Prestige Top (/ptop)
All vouchers will expire the week after they are handed out (/voucher). You must redeem them towards items on the server you win them on by that next week or they will be useless. The last week of voucher payouts will roll over to the next season.
$35 Buycraft
$25 Buycraft
$15 Buycraft
Contraband Top (/ctop)
To gain cell value you must mine contraband at the contraband mine or you can also get contraband as a reward from various enchantments. You must place all contraband in your contraband stash on your plot.
$35 Buycraft
$25 Buycraft
$15 Buycraft
Pass Top (/passtop)
Pass top is a new weekly top payout we are introducing this season with the revamped Galaxy Pass! To check what position you are on pass top you can use /passtop. The top three people on pass top at the end of each week will win the following rewards.
$10 Voucher
$7.5 Voucher
$5 Voucher
Fishing Top (/ftop) [FIRST WEEK]
The top three players who are on /ftop at 6 PM EST one week after launch will win the fishing top rewards! The Lootboxes are available via postman pat at spawn once payouts are sent. First week only!
x3 Jack o Lantern Lootboxes
x2 Jack o Lantern Lootboxes
x1 Jack o Lantern Lootbox
What is being reset?
Below is a list of gameplay elements that will be cleared with the upcoming reset:
Your Prison data
Your Tokens
Your Balance
Personal Data
Enderchests
Private Vaults
Inventories
Plots
Chests
Any non-permanent perks
What is not being reset?
Unlocked Kits
Donator Ranks
Any permanent perks (Such as autosell)
If you purchased something within the last week please reach out via a support ticket on Discord and we will give it to you next season!
Features
We have some crazy new content and many gameplay improvements releasing this season! Read below to find out what you can expect to see this season:
1.17 Server Update
The game version has been updated to 1.17! This is extremely exciting news as a plethora of new content is now accessible to the Plasma Team! With this update and future updates, there will be an emphasis on incorporating the new game mechanics into existing and new features on Plasma!
Resource Pack
I am extremely excited to announce the release of the new Vortex resource pack! Enhance your playing experience by enabling the pack and enjoying everything it has to offer!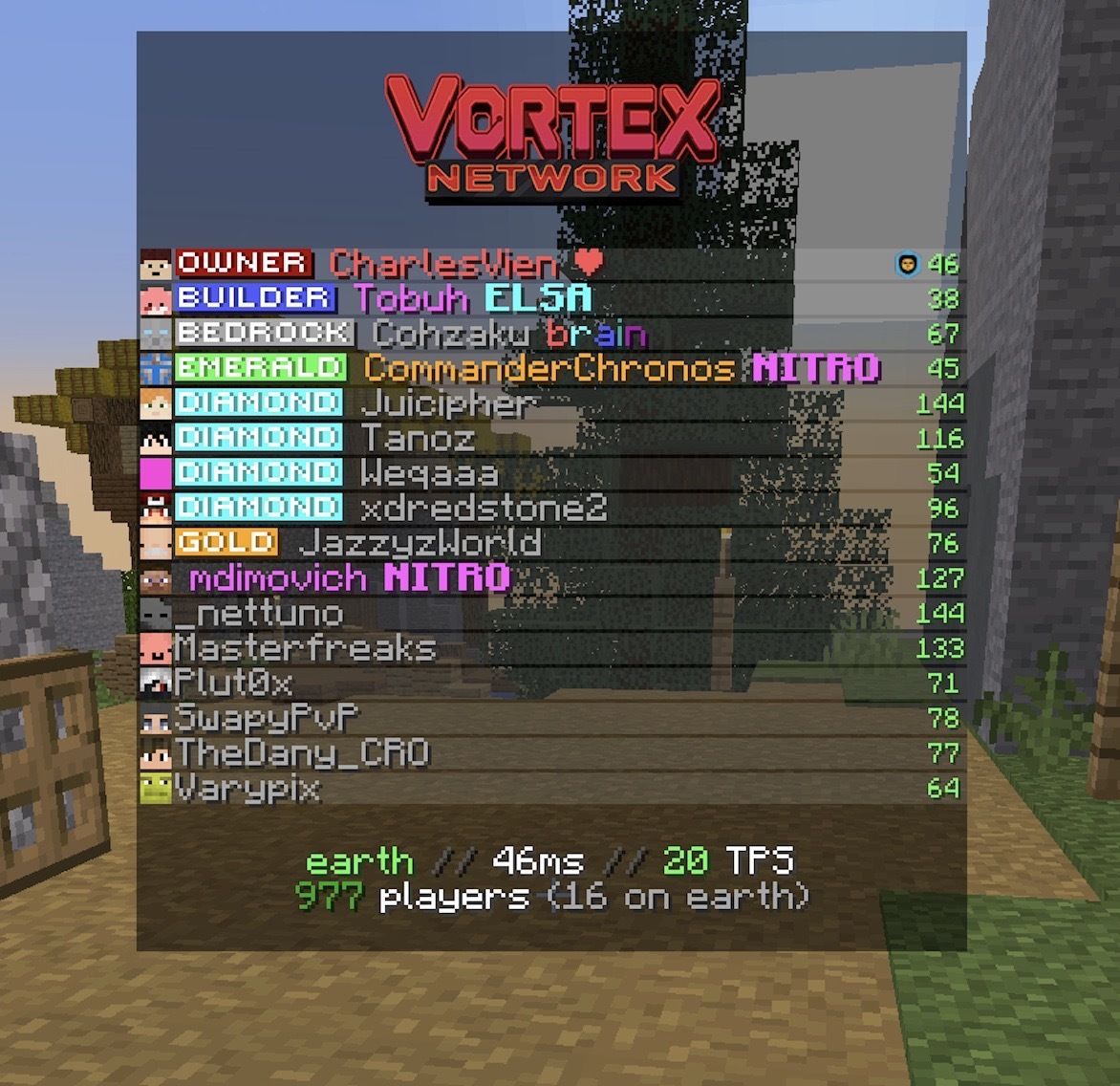 New Spawn
To celebrate Halloween, we have a brand new spawn! Ready your pickaxe to mine your way through this spooky corner of the galaxy!
Ghost Hunting [Halloween Event]
Ghosts have taken over Plasma! You are tasked with hunting down and capturing all of the escaped ghosts! If you complete the task, Dr. Venkman will thank you with a donator crate key!
Casper [Halloween Event]
Casper, the friendly ghost, is visiting Plasma! As you play, you will gain ectoplasma that will appear in your scoreboard! Bring Casper the ectoplasma you collect to advance on his quest! There are 100 levels you can achieve by redeeming your ectoplasma, with a variety of rewards, including a lootbox at level 100!
Pickaxe Updates
We have modified the pickaxe and pickaxe enchants to make your mining experience more enjoyable! Read a full list of the changes below.
New Leveling System
The pickaxe leveling system has also been changed! Each level gives you a random reward and your pickaxe special status! We have also updated the pickaxe progression names to a new list starting with Plasma Cutter!
New Enchants
Leprechaun
Gives a chance to find a lucky block while mining
Costs 315 tokens per level with a max level of 12,000
New Prestige Enchants
Extra Luck
Increases the chance to find higher quality Moon Rocks with the Luck enchant
Costs 3 Prestige Tokens per level with a max level of 50
Removed Enchants
Nuke
For a long time now, Nuke has not been the enchant we desired it to be. In previous seasons, we have buffed and changed Nuke time and time again but it always seems to fall short. For these reasons, Nuke is being completely removed
Fishing (It's not boring anymore!)
We have a complete fishing overhaul to introduce to everyone! Since Plasma has been updated to 1.17, we are now able to utilize new swimming mechanics and the wide variety of new fish mobs!
The community's biggest complaint to us has been that fishing is boring and you don't want to stand there and wait for a fish to bite, with this fishing revamp we are putting the control in your hands.
The fishing lake is now full of real fish mobs that you can kill for oil and loot. When you first visit the fishing lake you will be given a trident that you can use to upgrade and kill fish with. We've disabled trident throwing at the lake so you do not accidently lose your trident.
There are multiple types of fish from cod, salmon, pufferfish, tropical fish and even passive ocean mobs that give you buffs and help you hunt fish faster! The rarest fish is the Axolotl which when killed gives rewards greater than a comet key!
We also have a new fishing lake world which has deeper waters to accommodate the new fish mobs!
Pets Revamp
There has been a lot of feedback about the current pet system, so we are revamping many of the existing pets and adding new ones! Read the full list of changes below.
Existing Pets
Cheetah [Common]
Gives a permanent speed boost while flying
Robinhood [Common]
Increases damage dealt with a bow
Iron Golem [Rare]
Gives a chance to block damage taken
Rock [Rare]
Increases chances of finding Moon Rocks
New Pets
Gladiator [Legendary]
Decreases the time required to capture KoTH by 7%
Dolphin [Legendary]
Gives you Dolphin's Grace, which allows for significantly faster swimming
Criminal [Common]
Increases your chance to find Contraband while mining
Buffed Pets
Whale [Rare]
The Whale pet now gives increased oil when you kill fish
Enchantress [Legendary]
Increased the amount of tokens that can be found while mining
Removed Pets
Refinery
With the changes made to fishing, the refinery pet has been removed to encourage fishing
How pets are achieved has also been drastically changed. Pets are no longer a common item found through various different loot tables. Pets have all been given a different rarity of either common, rare, or legendary. Based on these, they will be either easier or harder to find, will you be able to collect them all?
Pickaxe Skins
We introduced pickaxe skins a few seasons back and unfortunately due to the server version being on 1.8 we could not fix the bug where you would mine slower with a pickaxe skin on than with one off so the adoption of pickaxe skins has been poor.
We are excited to announce that with this 1.17 upgrade we have been able to take advantage of new tool metadata that allows us to make mining with a pickaxe skin the same speed as mining without a pickaxe skin!
New Delivery Man
We have merged voting and the delivery man into one! Instead of having to fumble between the confusing vote menu and delivery man each day, you can now quickly complete your daily tasks and bathe in the OP loot from the brand new delivery man!
Daily Deliveries Available:
1x Vote Delivery Per Vote Per Day
1x Sync Delivery Per Day
1x Nitro Delivery Per Day

Jack o' Lantern Lootbox
To celebrate Halloween, we're launching the Jack o' Lantern Lootbox! Preview it in-game with the /lootbox command!
Nitro Rewards
Did you know you can get a load of perks just by boosting us on Discord? If you already have a Nitro subscription you get two free boosts included! Below are just some of the amazing perks you will receive upon boosting.
1x Nitro Lootbox (available in-game via /reclaim once per season)
In-game Nitro Title
In-game Nitro Cosmetics
Daily Nitro Delivery from the Delivery Man
Booster role in Discord, including the Booster badge, and your name will be listed under staff!
In-game Pink Tab Name
In-game Pink Diamond on your display name
Nitro Booster line in your hover over display name
Balancing Changes
We're making the following balancing changes to allow for a better playing experience:
Laser now fires from your line of sight rather than at your feet
Large beacon pouches have been removed from the KoTH Crate
Completely revamping KoTH keys, adding a new koth pet, and overall making the rewards much better
KoTH gear has been upgraded from diamond to netherite
Bug Fixes (Misc.)
We're adding and tweaking the following content on Plasma in addition to everything mentioned above:
The enchant menu no longer pops up randomly while mining for PE players
Mining rewards such as moon rocks, crystals, etc will now be sent to your /box if you do not have enough inventory room to hold the item instead of dropping on the ground.
Executioner kit sword now drops the players head upon death
Adding other players to your private mine now works as intended
The permissions button on robots now works as intended
Conclusion
We're looking forward to another great season, good luck to everyone in contention for our prize pool!
~ Vortex Plasma Team